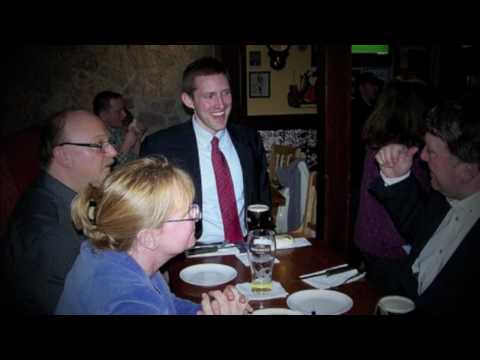 Every year we see candidates for Congress who have never held elective office. The normal path to Congress usually involves a long political career that starts in town government, goes through the state legislature until an opening arrives and a young legislator reaches for a Federal office. Candidates that try straight for Congress against powerful incumbents usually run symbolic campaigns with no chance of success.
But Bielat has been quietly running a fantastic campaign for the 4th Congressional district that just may beat the odds.
In any political campaign, when you introduce a new candidate, the goal is always to define your candidate before the opposition does. And when you are a political unknown, you essentially get a free pass the first time out. Established political opponents have no interest in attacking you because that will only give you legitimacy. So you get this one clear shot to introduce yourself to the voters.
And that's just what this video does.
Bielat's life story is like a Republican fantasy: the child of a military family, a boy scout, congressional page, a student of government at Georgetown, then a few years as a Marine officer, and now a program manager for a successful high tech military project at iRobot. The video, though highly produced sticks to a now familiar Republican formula – humanizing your candidate with an extremely personal approach. The video is a photo-montage of Sean Bielat's life, made up of family photos, narrated by his wife. It looks like the kind of home video that families make to memorialize weddings and vacations. It somewhat mimics Ken Burns' photo based documentaries.
It definitly draws comparisons to Frank in a way that will appeal to conservative voters without needing to reference Frank directly. There is a photo of Bielat as a Boy Scout. The scouts have become a somewhat divisive issue between liberals and conservatives. In recent years their leadership has become dominated by the Mormon church, and opposed to homosexuality. It mentions Bielat's catholicism, his membership in the armed forces, and his traditional family life. All of them things which for social conservatives will bring to mind a sharp contrast with Frank. Without getting into any direct policy differences the viewer is reassured about Bielat's allegiance to conservative issues: family values, support for the military, and his pro-life position on abortion.
Abortion and Gay Rights are lighting rod issues in Massachusetts. You won't find a statement on these issues on his web site for example. So, how do you telegraph a conservative position on them without drawing the attention of activists on the other side? Videos like this send out reassurances to supporters while giving opposing activists very little to attack him with.
This short 5 minute video is way too long to be used on television, but it's just right to introduce a candidate to Republican activists on the Web. I'm sure it will translate into campaign contributions and campaign volunteers. At this stage, Bielat needs to convince party stalwarts that it's not a waste of their time to support him. After viewing this, I'm sure many will be convinced that he really can win.
Unseating Barney Frank Will be no Easy Task
Frank is an extremely polarizing figure, hated by conservatives, but beloved by progressives. And this year he is more popular among progressives than ever. The Boston Phoenix for example just named him "Best Local Politician". Frank is famously feisty and a rhetorical genius – able  to shut down most attacks with a few well chosen words.
One of Bielat's strategies is to use Frank's combativeness against him:
"He's abrasive. Every time he comes and speaks in the district it works for me. I want him speaking nonstop," says Bielat.
It will be difficult for Bielat to go negative against Frank. After 35 years in office, he is already well known in Massachusetts. People who hate him won't need a negative ad to hate him more, and people who love him probably won't be much swayed by a negative ad. They've heard it all before. And negative ads against Frank could easily backfire. A sharp quip from Frank in response could give him all the free news coverage he needs to paint the upstart as a political newbie unfit for serious Congressional duties.
Bielat will likely get a free pass over the few months introducing himself to voters. Later in the year Bielat will certainly get into rhetorical matches with Frank, and that will be much tougher. Frank is Chair of the House Finance Committee, and is often criticized by conservatives for not having done enough to prevent the recent financial crisis. The criticism is weak, in that these problems have been building since long before Frank was chairman and he's well practiced at deflecting those. I'm certain that by Summer, Bielat will have won over conservatives to his side over his primary opponent Earl Sholley. It will be in debates with Frank that he will need show independents that he has the chops to be a more effective representative than Frank.
Bielat is working with some very savvy political consultants at Swift Current Strategies, made up of some of Scott Brown's top campaign advisors. Bielat's life story is great material to work with, and this video delivers everything it needs to.