Category Archives:
Creem Rudnick
1st Middlesex & Norfolk – Newton, Brookline and Wellesley – Cynthia Creem, Charles Rudnick
Alimony Reform
Creem Rudnick
September 13, 2010 – 8:41 pm
The Globe Says Yes – Creem Says No. What are the Facts?
Cynthia Creem is Senate co-chair of the Joint Committee on the Judiciary. In that position she has the power, along with Representative Eugene O'Flaherty, of deciding the Committee's agenda. That power allows a legislator to essentially block any bill before that committee. If there is a law that either chair doesn't want to see passed – it doesn't matter how much support it has – the chair persons can block it.
She is also a practicing divorce attorney. She charges over $400 per hour to represent clients.
She is a partner at her family's law firm, Stone Stone & Creem. As a founding partner, Sen. Creem has a financial interest in every case handled by a high end law firm with 4 partners. At over $400 per hour, it is likely that almost every case handled by her firm will consider Alimony.
Creem Rudnick
September 10, 2010 – 7:49 pm
[ed_note]Charles Rudnick, candidate for state senate in the 1st Middlesex and Norfolk Senate District released the following statement today.[/ed_note]
[section_spacer]
Democratic state Senate candidate Charles Rudnick reasserted today his unwavering support for a woman's right to choose and his long history of working for female candidates for office and the issues they champion.
"I will take a back seat to no one when it comes to fighting for women's rights to choose, to earn equal pay, to receive equal treatment in all facets of the workforce," Rudnick said.
Rudnick, who is running for the Senate seat representing Newton, Brookline and Wellesley, made his comments after a last-ditch political mailing in the race misled some supporters about his position.
Creem Rudnick
September 8, 2010 – 6:47 pm
Here is video of the Candidates Forum at the Brookline Town Hall hosted by the Brookline Democratic Town Committee.
[section_spacer]
Part 1: Opening Statements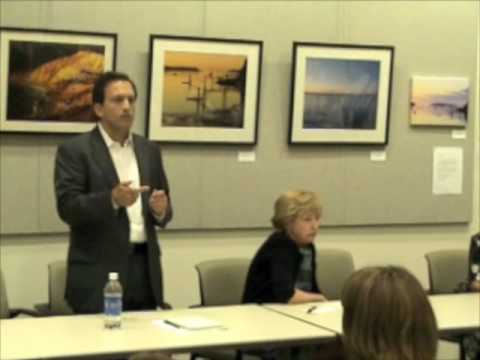 Creem Rudnick
September 8, 2010 – 6:22 pm
[ed_note]The following statement was released by the Charles Rudnick Campaign. Charles Rudnick is a candidate for the 1st Middlesex and Norfolk Senate Distrct [/ed_note]
[section_spacer]
With one week to go, Charles Rudnick, progressive Democratic candidate running for State Senate to represent Brookline, Newton, and Wellesley, announces that his campaign has knocked on the doors of 12,175 families, including homes in every precinct of the district. The campaign has also called 15,810 families, collected over 1,000 signatures to be on the ballot (only 300 were required), and written 11,234 postcards to follow up on these conversations.
"I'm offering engaged, accessible, and energetic leadership for the future," said Rudnick. "Individual contact with voters is a focal point of my campaign. The energy I am putting into engaging with the people of Newton, Brookline and Wellesley is something I will continue as State Senator."
Alimony Reform
Creem Rudnick
Shared Parenting
August 31, 2010 – 1:23 am
[ed_note]The Globe article has been corrected. Sherry was either misquoted or retracted the statement. The correction isn't clear about what happened. We don't have any issue with the Creem campaign's current statement.[/ed_note]
[section_spacer]
Following today's endorsement of Charles Rudnick by Warren Tolman and George Bachrach, the Globe contacted the Creem Campaign for a reaction.
Toward the end of the article, Mike Sherry, Cynthia Creem's campaign manager, tells a whopper:
"Sherry said Creem has set up a task force that is going to report back with a proposal to change state child custody and alimony laws, and he said that by this time next year the senator expects consensus legislation will be passed."
Creem is in a very tough race, with Rudnick probably in the lead. (See the Newton Tab's online poll). And she finds herself on the defensive about her failure to make progress on two popular family court reform bills for Alimony Reform (H1785) and Shared Parenting (H1400).
Creem has tried to portray her obstructionist record, and the fact that she belatedly organized a lobbyist filled task force to study Alimony Reform as a record of leading on Alimony Reform. And she has parsed her words carefully minimizing her work as a divorce lawyer by saying she only "litigated" a few divorces this year. Anyone with experience in family law knows that only about one case in 20 is litigated. For each case litigated probably 20 were represented.
But her campaign has avoided saying outright untruths – until now.
Creem Rudnick
August 31, 2010 – 12:32 am
[ed_note]Former State Senators Warren Tolman and George Bachrach have issued the following statement endorsing Charles Rudnick for State Senate[/ed_note]
[section_spacer]
To the Editor:
We have great respect for state Senator Cynthia Creem.  We share her progressive values and we appreciate her progressive voting record.  But we strongly support Charles Rudnick for election to the state Senate representing Brookline, Newton and Wellesley.
Why?
We have both served in the state Senate.  We understand how it works.  There are two kinds of state senators…those who lead and those who follow.  Leadership is hard.  It requires courage and creativity and independence.
Alimony Reform
Creem Rudnick
Shared Parenting
August 26, 2010 – 12:00 am
The Newton TAB and the Boston Globe have reported a bizarre flier that has been distributed lately in Newton. It claims that Senator Cynthia Creem is "perpetuating a war against children and parents." As chairman of the board of Fathers & Families, a national nonprofit with 6,000 supporters in Massachusetts, I am dismayed by this foolish attack. Unfortunately, the rants of a tiny group called FathersUnite.org cause people to dismiss important questions about the family courts, the welfare of our children and our elected officials.
The experience of a Fathers & Families member makes the problem clear. When his 2-year-old son Joshua (fictitious name to protect privacy) is frightened, he reflexively throws his arms around his dad and holds on for dear life. For some reason, he gets special comfort from holding onto dad's earlobe. Unfortunately, since his parents separated, the courts have ordered that he only gets to see his dad about four days per month, with no overnights. Joshua toddles around the house searching for "Dada, Dada," is often sad and sleeps poorly at night.
Alimony Reform
Creem Rudnick
Shared Parenting
August 24, 2010 – 12:07 am
Starting two weeks ago, a number of father's rights activists, led by Bob Norton, began distributing fliers in Newton critical of Sen. Cynthia Creem for blocking two family court reform bills this year - Shared Parenting (H1400) and Alimony Reform (H1785).
Emotions are running high among people who have advocated for these bills all year. Many of these activists were calling the legislature on an almost daily basis asking for progress on these bills.
[section_spacer]
They've Been Asking for Help all Year
When there was a public hearing on these bills back in September, many hundreds of them showed up at the State House to testify. The hearing room was packed to over-flowing. It was so hot and packed that at least one person was taken out on a stretcher.
Alimony Reform
Creem Rudnick
Cynthia Creem
July 26, 2010 – 1:00 am
Alimony Task Force chairs promise to work on a bill through the Summer and Fall to have a bill ready early in the next session. (Details on next year's bill)
With the legislative session running out of time, and the House under Speaker' DeLeo's legislative lockdown – no bills are moving. In a letter to his legislative colleagues, Representative John Fernandes reveals that the task force, set up over 10 months ago to make a recommendation on meaningful alimony reform, has failed come up with a recommendation in time to act this year:
Dear Colleagues,

Over the past several weeks, some of you have approached me regarding the work of the Alimony Task Force, of which I serve as House Chair.  I am aware that many of you have also been contacted in the last few days about the articles that appeared in the Boston Globe this past Sunday and Monday about the alimony issue and how the legislature is handling the same.
209a
Creem Rudnick
Cynthia Creem
July 19, 2010 – 1:58 pm
This just in from Charles Rudnick:
NEWTON (July 19) – The following is a statement from Charles Rudnick, Democratic candidate for the State Senate seat representing Brookline, Newton, and Wellesley:

"Sen. Cynthia Creem must immediately recuse herself from any role in legislation pertaining to divorce law given the clear and disturbing conflicts of interest detailed Sunday and today in the Boston Globe. This type of conflict undermines the public's confidence in the Legislature and its ability to manage issues like this impartially. I have pledged to be a full-time Senator to avoid even the appearance of such conflicts, as well as to provide more effective leadership on the complex challenges facing the Commonwealth. I hope Sen. Creem's volunteered recusal will help end the logjam on meaningful alimony reform." read more »