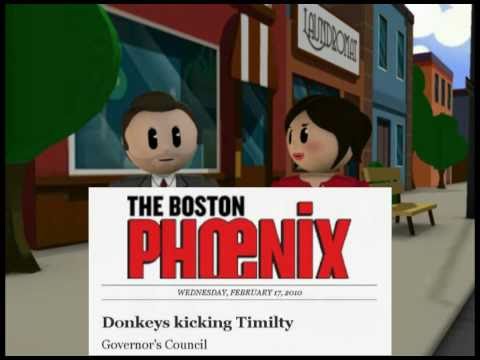 The video makes reference to many controversies surrounding Kelly Timilty. Check out the following articles:
The District 2 Dems Against Another K. Timilty Campaign, and are led by Plainville Democratic Town Committee Chair Mary-Ann Greanier (who is acting independent of that position).
Greanier and a reported 35 of her allies have mobilized to roust Timilty from office. Their gripe: in 2008, Timilty admitted to using Governor Deval Patrick's endorsement in campaign literature without consent and forging his signature. For the farce, she was fined $8000 by the attorney general's office.
Greanier, claims Timilty is more or less an absentee delegate who collects her check and does little else. "what she did was insulting, obnoxious, and illegal enough that we don't want her as our nominee."
Timilty was chided in a recent issue of Massachusetts Lawyers Weekly for attending fewer than half the weekly council meetings during the past year. But Timilty waved off the no-show charge at the forum, saying her attendance record is "neither here nor there."
Councilor Kelly Timilty of Dedham allegedly sent out a mailing to voters that had Gov. Patrick's signature and an endorsement message from him – two things Patrick's office said he did not do. "The mailing sent out recently by the Timilty campaign was not approved by the Deval Patrick Committee, nor did the governor approve or author the letter that bares his signature,"
Kelly A. Timilty, the governor's councilor whose campaign copied Governor Deval Patrick's signature on election fliers and claimed his endorsement without permission, took responsibility yesterday